2017.03.30
ハナノナ:web バージョン
hananona: web version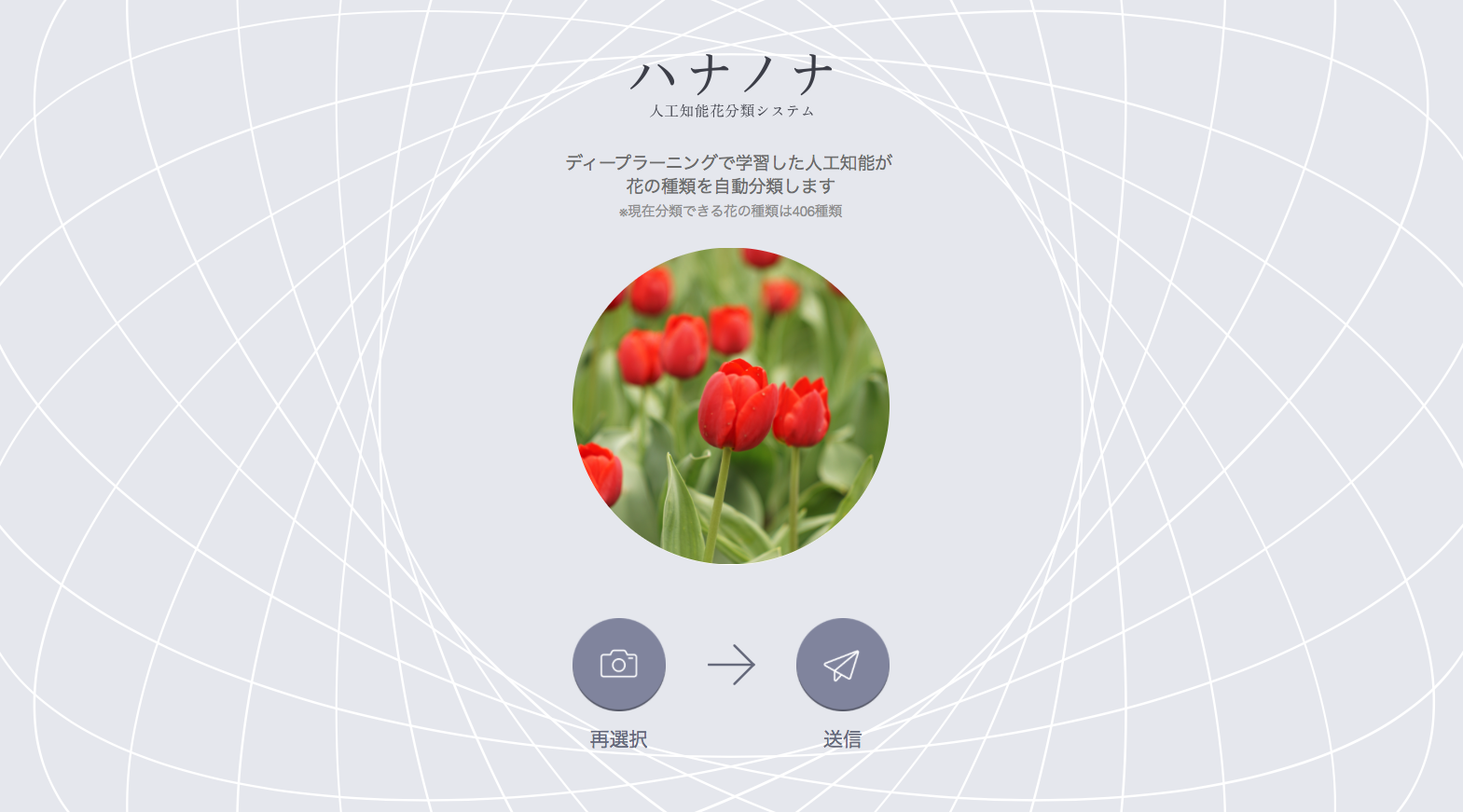 406種類の花の分類をご自分のスマホ、タブレット、PCのブラウザでご利用できます。
使い方
1. http://flowers.stair.centerをブラウザで開く
2. 「画像を選ぶ」をクリックして花の写真を選択。スマホだったらその場で撮影してもいいです。
3. 「送信する」をクリック
あとは人工知能が返事を返すのを待ちましょう。
人工知能が自信のある順に5つの答えを返します。
円グラフは自信の大きさを表しています。1番目に絶大な自信があっても必ず5つ返すようになっています。
あと、名前だけ聞いてもどんな花かわからない人のために、wikipediaや他の写真サービスからサンプル画像を表示します。自分の花画像と見比べてみてください。
#uploadされた画像の扱い
識別用にアップロードされた画像は判別のあと2週間後にサーバーから削除されます。
# Getting started with flower recognition
This is a web service, so you can use this via browser on your PC or smartphone.
1. Open the following URL: http://flowers.stair.center
2. Click "Select a photo" to select a photo in your PC or smartphone. If you use a smartphone, you can take a photo too.
3. Click "Send it" to send the photo to AI.
Done, and just wait for AI's response, which doesn't take long.
AI will return top five candidates. Higher rank implies more confident candidate.
Larger font also indicates its confidence. Pie chart gives confidence distribution.
For your convenience, reference photos of five candidates are shown. Some of which are from wikipedia and others are from online photo services. (In English version, this part is not completed yet)
### Note
Photos uploaded for recognition will be kept two weeks in the server, and then deleted from the server forever.