2017.03.30
ハナノナ:人工知能による花のきめ細かな分類
hananona : Flower Classification by Deep Learning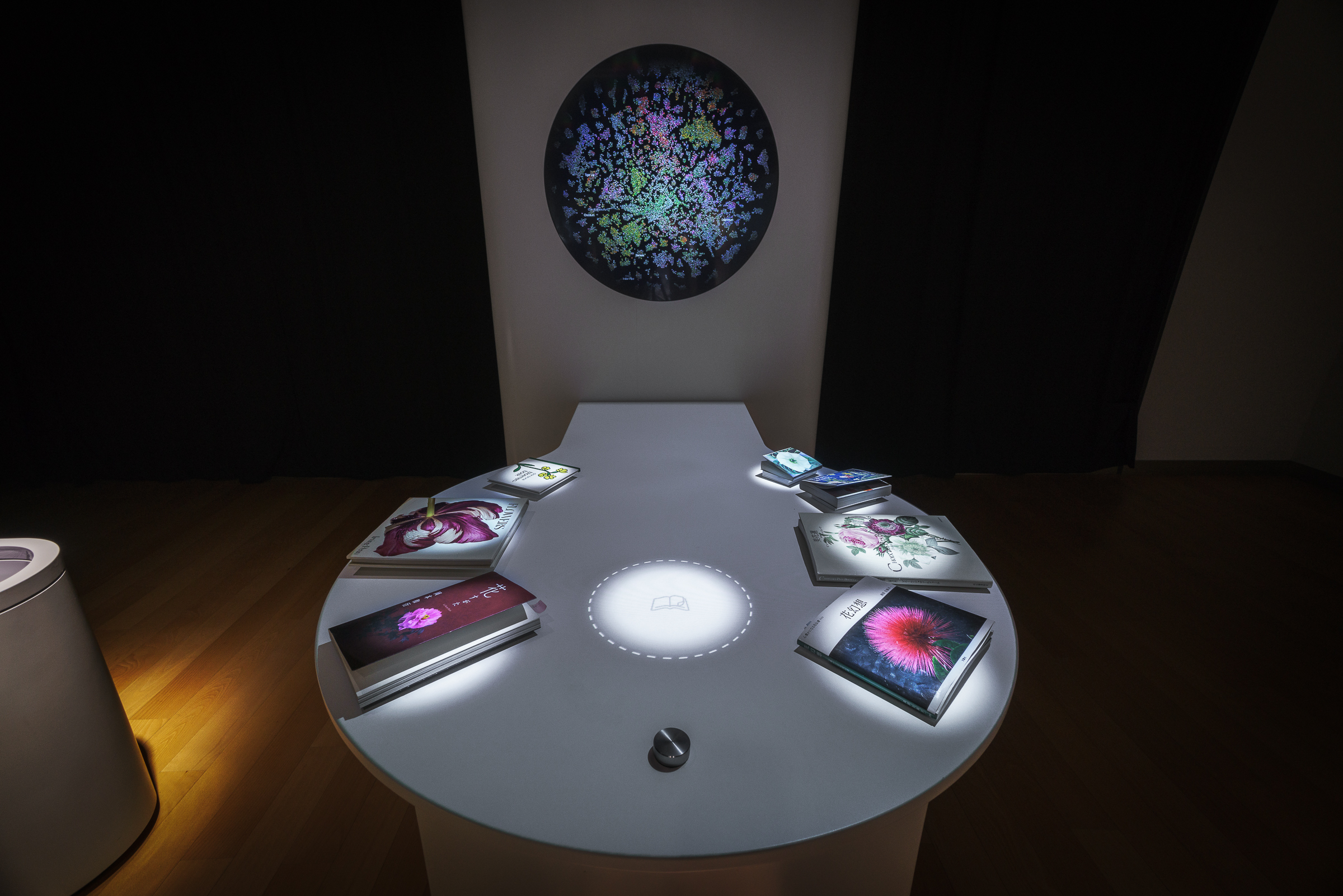 人工知能によるきめ細かな花の分類
幼児は目にするものの名前を周囲の人から教わりながらモノの名前を憶えていきます。コンピュータにも同じようにたくさんの例を見せることでモノの名前をわかるようにさせることが最新の人工知能研究で可能になりました。
鍵となるのは大量の訓練データと深層学習です。この最新の成果を応用して約30万枚の花の写真を使って花の種類を判定する人工知能を開発しました。このシステムは406種類の花を分類することができます。
人工知能に関する技術的な詳細はこちらを ご覧ください。

A.I. flower classification system
Infants learn the names of things when adults teach them the names of the objects they see. The latest artificial intelligence research makes it possible to teach computers the name of things by showing many examples, just like humans do. The keys are a large amount of training data and deep learning. By leveraging this latest technology, we have developed artificial intelligence capable of classifying flowers by using over 300,000 examples of flower pictures. This system can now classify 406 kinds of flowers. For more technical information about the system, please refer to here.

この人工知能を応用したインタラクティブな作品「ハナノナ」を千葉工業大学 東京スカイツリータウンRキャンパスに展示しました。
An interactive work "hananona" (meaning "name of flower") using this new AI technology is now being exhibited at Tokyo Skytree Campus of Chiba Institute of Technology.
「ハナノナ」は人工知能が大量の花の写真を学習することによって得た花の分類能力を可視化する体験型の作品です。
"hananona" can visualize how AI acquires the ability to classify a flower through learning a large amount of flower photos.
中央のテーブルに置かれた写真、絵画、絵本など抽象度の異なる花を描いた本を撮影すると、人工知能が花の種類を判定し、どの花と近いと判断したのか、正面の丸いディスプレイの中の「花マップ」上に視覚的に表示します。
When it photographs a flower from a book on the center table, it identifies the name of the flower and shows its class among similar flowers on a visual "flower map." These books contain images of flowers with different abstraction levels, such as pictures, paintings, etc. Observe how the AI reacts to different abstraction levels of flowers.
花マップについて
「花マップ」は人工知能が約30万枚の写真を学習した結果を可視化したものです。たくさんの「島」はそれぞれ一つの花の種類に対応しています。
1つ1つの「島」に注目すると、見た目が違う写真でも同じ種類の花に分類されている様子がわかります。

The "Flower Map" is a visualization of how artificial intelligence has learned over 300,000 pictures. It is a group of clusters, each of which corresponds to one class of flowers. Looking at each "cluster", you can see how artificial intelligence classifies the flowers. Even when taking different appearances, it understands the similarities and recognizes them as the same kind of flower.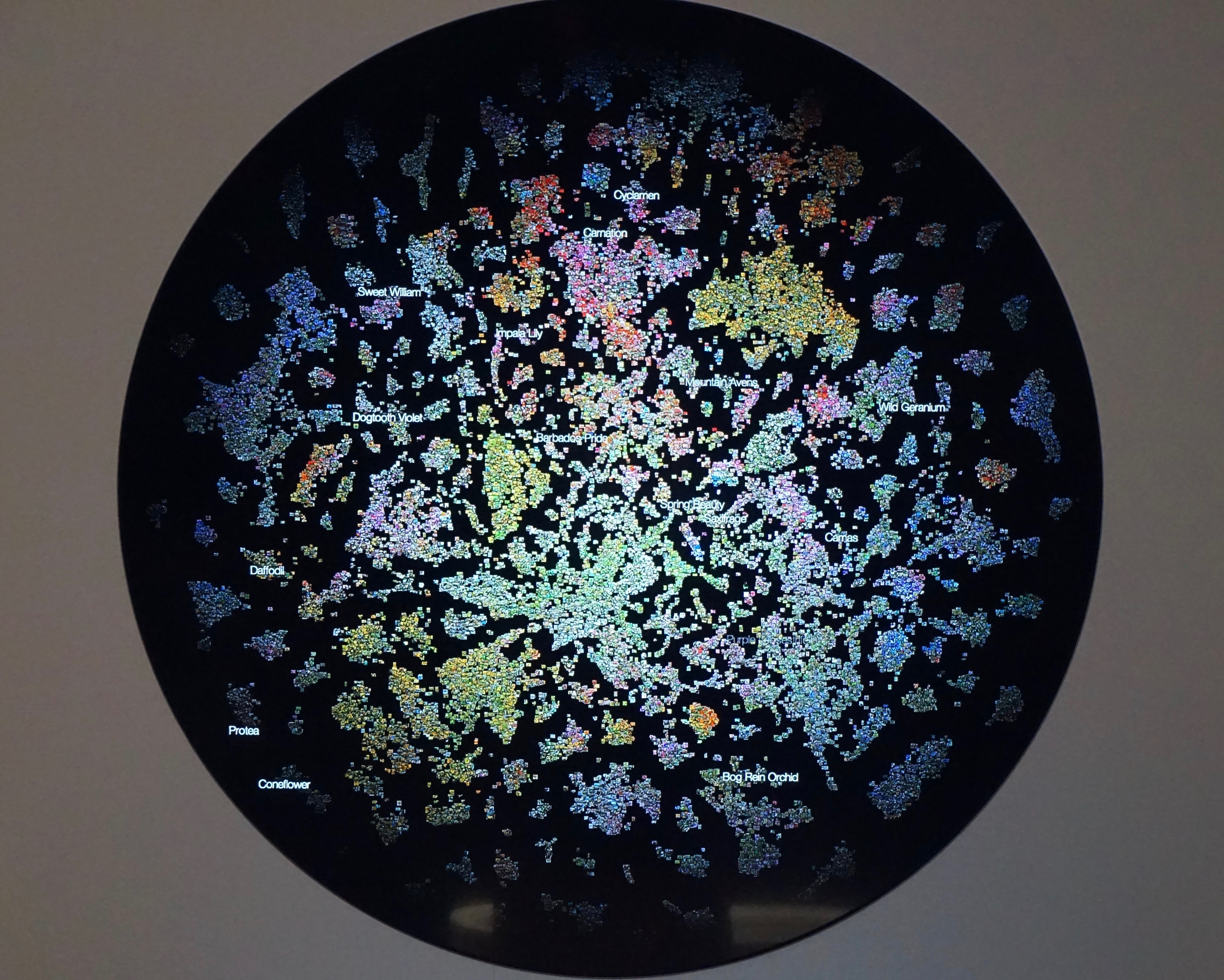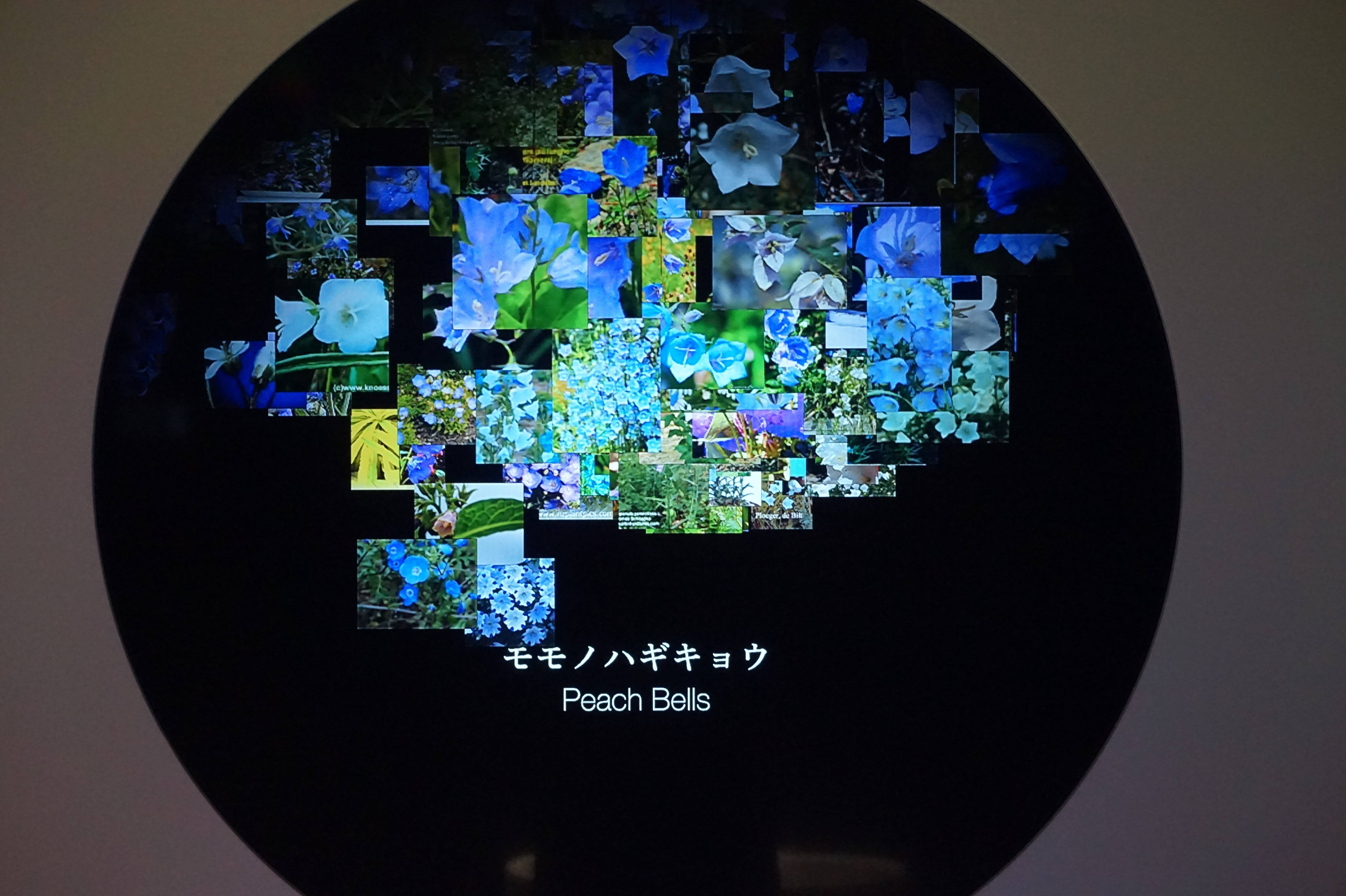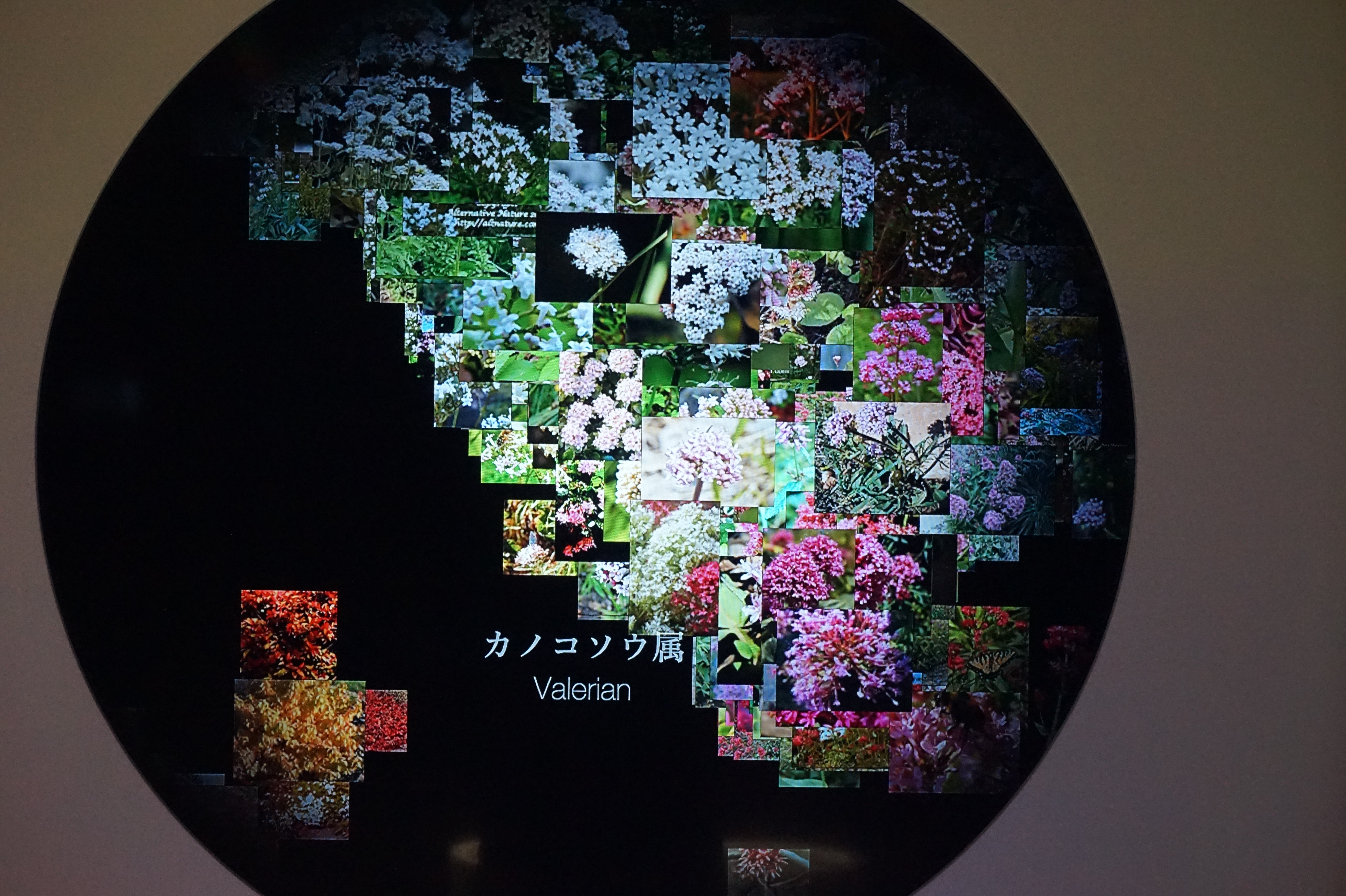 ハナノナ-webバージョン-は、スマートフォン、タブレット、PC などからもご利用できます。
ブラウザーから flowers.stair.center を訪問してください。
周囲のテーブルの中にある花のようなオブジェや有名な花の絵画を撮影し、みなさんのスマートフォンを使って正しく分類できるか試してみることができます。

The web version of "hananona" flowers.stair.center can be used from your smartphone, tablet, and PC.
Take a picture of flower objects in the surrounding display cases and try the "hananona" web version.
In collaboration with 
株式会社Surface & Architecture(クリエイティブディレクション、デザイン)
久納鏡子(アートディレクション)
赤川智洋(インタラクションデザイン、プログラミング)
タノシム株式会社(プログラミング)
株式会社mokha(サーバープログラミング)
In collaboration with  
Surface & Architecture, Inc. (Creative Direction, Design)
Kyoko Kuno (Art Direction)
Tomohiro Akagawa (Interaction Design, Programming)
Tanoshim Inc.(Programming)
mokha Inc. (Server programming)